For any organization, for or non-profit, getting to know your contacts is very important for marketing purposes. In days of yore, we would request calling cards from leads and contacts during events to contact them in the future.
While collecting calling cards may not be the best way to do marketing these days, getting to know the people who join your events is still a goldmine for any marketing team. But with the recent changes in how events are done, will your organization still be able to collect the information you need from your attendees?
The Rise of Online Events 
One of the most significant changes that organizations had to adjust to during the 2020 pandemic revolved around public gatherings. When scientists declared the new coronavirus could be transmitted through the air, they automatically recommended that all public gatherings be canceled. Any gathering of more than 3-4 people can be a potential super spreader event, as evident in a couple of events during the start of the pandemic.
As a result, organizations that relied on seminars, gatherings, and events were suddenly left with no way to conduct their regular dealings with their target market. But they were not left high and dry for too long. In just a few months, organizations that relied on traditional marketing methods learned to adapt to the online marketing setting. Part of that was learning to take their regular events and turn them into online events or webinars.
As it was much easier to create online events or webinars due to more minor preparations needed and easier access to tools, the world saw an increase in the number of virtual events being conducted. One online conference company, 6Connex, even reported seeing a 1000% increase in the total number of virtual events held in their platform since the pandemic started
So now that organizations know how to conduct virtual events, the next step would be to integrate their marketing efforts into these events. While bigger cloud conferencing platforms like Zoom had ways for you to record registrant and attendee data, you had to copy each entry into your marketing platform manually. While this is not a problem if you do 1-2 events a year with around ten attendees, more prominent organizations wanted to find a way to gather, record, and use registrant and attendee data in an automated way.
Enter Salesforce.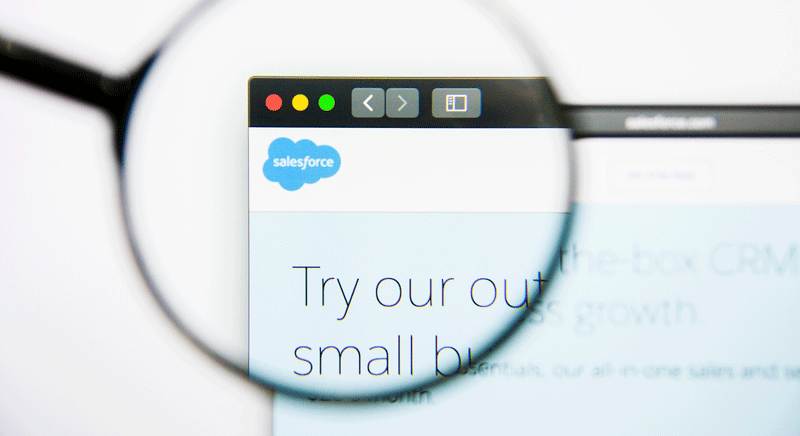 5 Ways to Integrate Salesforce and Zoom Webinars
Salesforce is a tried and tested customer relationship management service that provides its users with a myriad of ways to record, manage, and use customer data for marketing purposes. It is a powerful tool that allows businesses of all sizes to create powerful marketing strategies within the platform itself.
Integrating Zoom Webinars and Salesforce allows you to have your webinar data in one central location. This makes it easy to effectively analyze the data, giving you deeper insights into your audience.
What webinars have they attended? What kind of webinars are they interested in? This information gives you a holistic view of your audience allowing you to plan webinars that will appeal to your constituents and increase the number of repeat attendees.
There are 5 different ways that you can integrate Zoom and Salesforce:
Manual Import
Connector Tools (Zapier or Workato)
Pardot's Zoom Connector
Salesforce Zoom Sync
Predictive ZFusion
Manual Import
This requires you to move data from Zoom into Salesforce manually. Start by exporting attendee data from Zoom and then import it into Salesforce, preferably using the data loader. The data loader for Salesforce will make your work easier as it has a bulk import feature that eliminates the need to input the data one by one. The data loader extracts information from a database connection or CSV file. The tool is free, simple, and easy to use. It, however, requires you to double-check the data for duplicates manually. It also may require merge management for multiple file imports. Manual imports can be tedious, especially when there is a lot of data. Manual imports into Salesforce are ideal if you hold small or infrequent webinars in Zoom.
Connector Tools
You could use integration tools like Zapier and Workato that can help you configure workflows and manage attendees. Zapier is relatively easy to configure and can perform a basic integration well. They have a free plan, but you will have to subscribe to a paid plan to access the custom integration feature. You will need to set up the integration, manage the account, and sometimes Zaps may disconnect. When this happens, manual clean-up is required.
Pardot's Zoom Connector
Pardot integrates the two platforms as well. Their configuration page allows you to create lists to capture registered webinar attendees, users that attended, and those that were absent. The registered attendees' list is automatically uploaded once a prospect registers. The attendee list gets updated after the webinar. The app captures the details of all event attendees but has to be configured so that it can sync Zoom webinars into Pardot's activity history. It also can be tricky with Pardot's Connector to segment email campaigns since Pardot doesn't automatically add members to campaigns. But it is an excellent option if you already use Pardot.
Salesforce Zoom Sync
The Salesforce Zoom Sync is a Zoom product and comes in handy during campaigns. Zoom Sync integrates Zoom and Salesforce and ensures that every webinar created on Zoom is automatically created in Salesforce. It is free but can take a while to set it up correctly.
Predictive ZFusion
If you are looking for simple, easy-to-use integration with minimal requirements, ZFusion by Predictive Response should be your go-to option. While the initial steps to install ZFusion can take some time, they have a step-by-step process on their website so you won't get lost. It works in real-time and ensures seamless integration of webinar registrants.
Predictive ZFusion also has a duplicate management feature and a real-time analytics dashboard where you can get statistics of registered users vs. attendees and how long the attendees stayed on your webinar.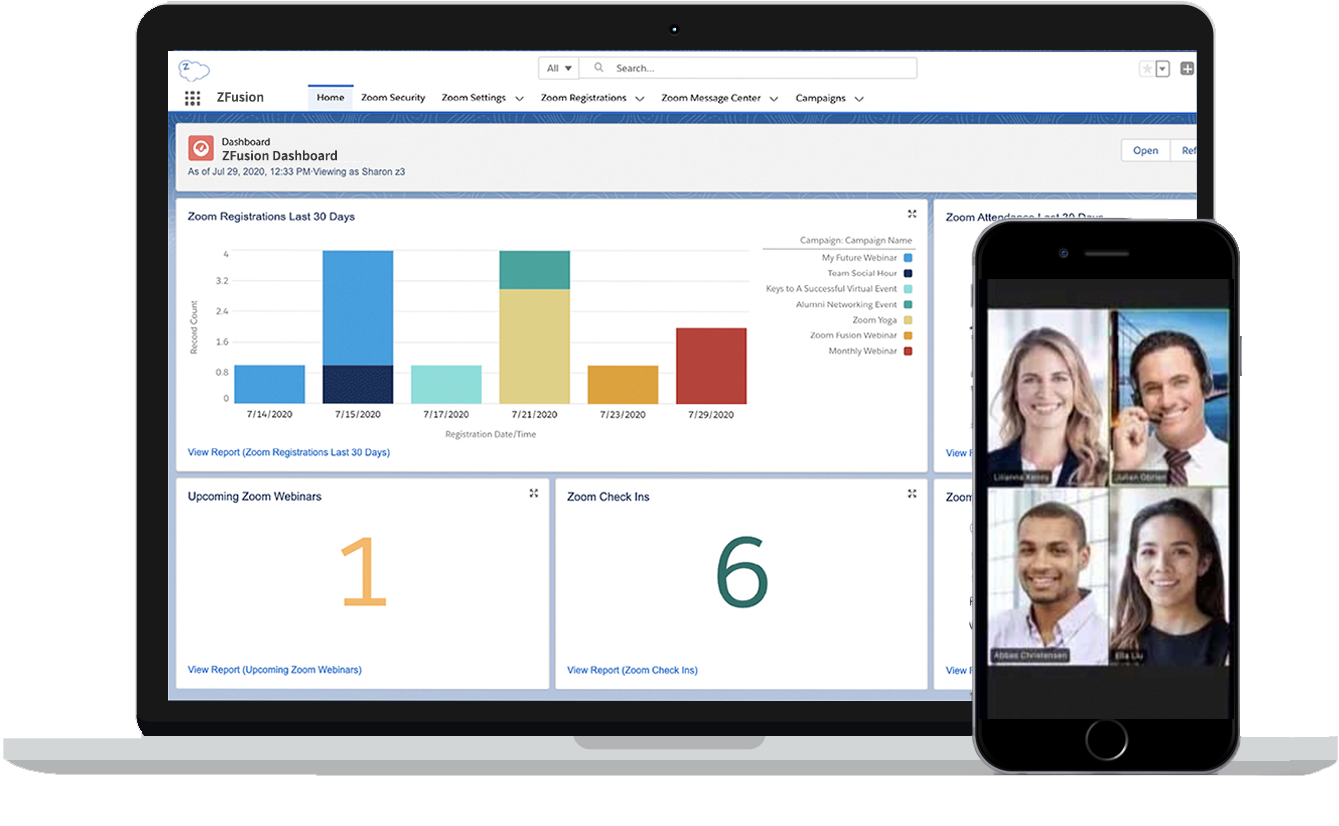 What's the best way to integrate Zoom Webinars and Salesforce in 2023?
There's a solution for everybody in terms of finding a way to integrate Zoom to Salesforce. For organizations that conduct a few events a year with a manageable number of attendees, the manual option should work for you.
But if you are looking for a one-time setup solution that maximizes the marketing capabilities of Salesforce, then Predictive's ZFusion app is perfect for you. Not only does it allow Salesforce to collect data from Zoom Webinars, but it can also actively segment the data for you right away into campaigns. It also gathers information that no other app in the market collects, such as how much time the attendee spent in the webinar and when they registered or entered the webinar. All these might seem trivial to the untrained eye, but you can create a very effective campaign using all this information.
If you are interested in finding out how ZFusion and Predictive can help take your marketing efforts to the next level, contact Predictive today and schedule a quick call with one of our product experts.