REAL TIME ENGAGEMENT THROUGH SALESFORCE AUTOMATION: Fully leverage the power of Salesforce campaigns by automatically capturing lead and contact data.
CampaignFlow automatically adds leads and contacts directly into Salesforce Campaigns through your targeted rules. Harness the power of CampaignFlow through your Salesforce1 mobile device. As a native app, CampaignFlow unleashes the full power of Salesforce by reducing repetitive tasks and providing real-time campaign updates based on user activity.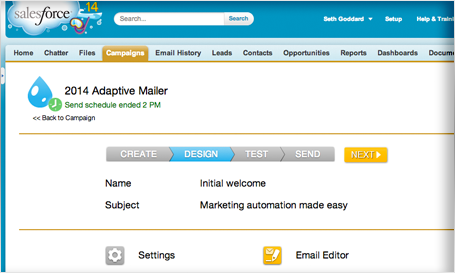 POWERFUL MARKETING AUTOMATION, SEAMLESSLY INTEGRATED INTO SALESFORCE: The Adaptive Mailer is an easy-to-use marketing automation platform built into the Salesforce Campaign object.
The Adaptive Mailer helps marketing staff increase revenue by easily delivering email campaigns to leads and contacts, and highly-qualified, prioritized prospects to sales. Through its native Salesforce integration, Predictive allows you to automatically track, score and nurture leads throughout the sales cycle.