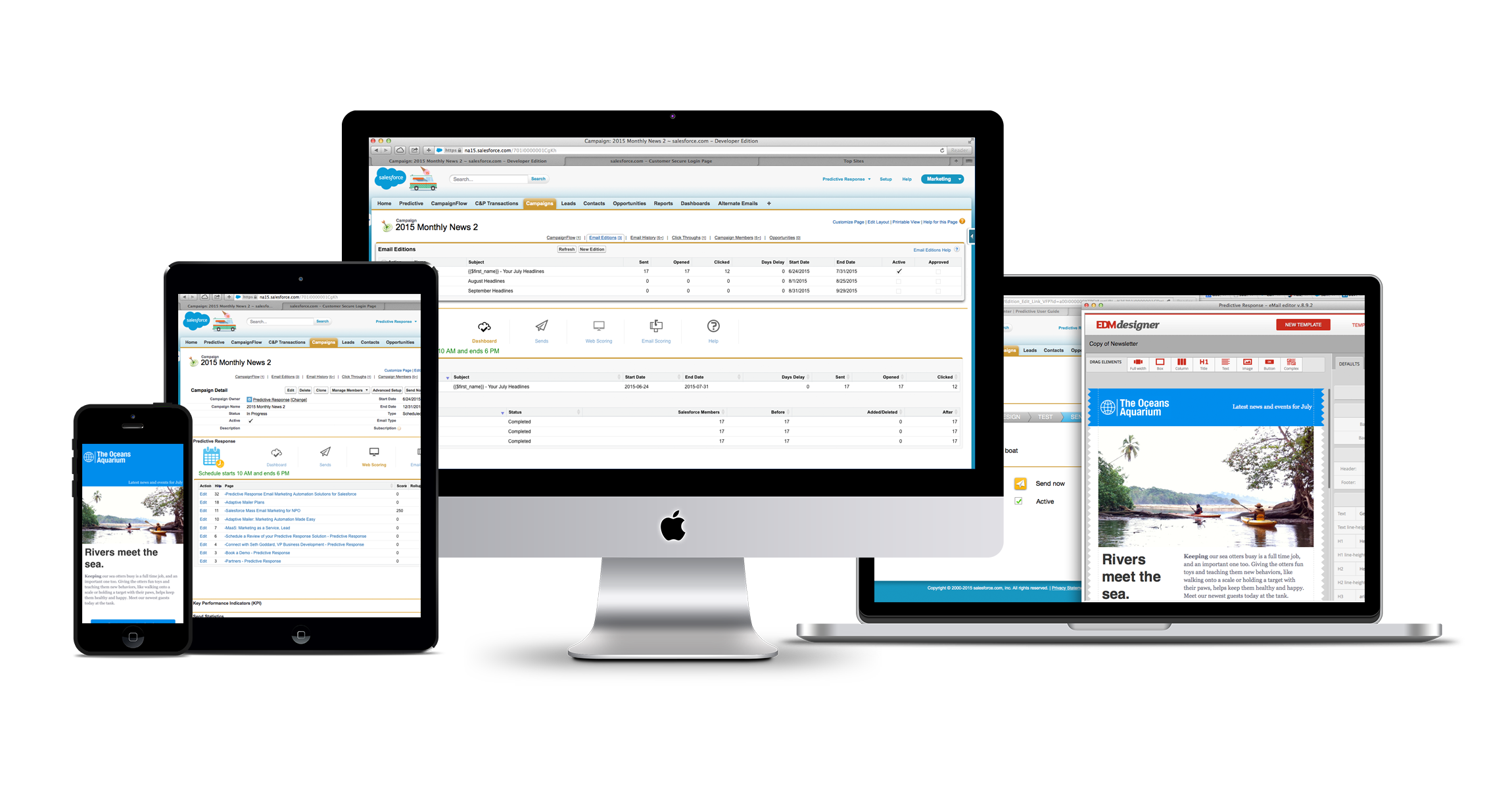 Predictive Response provides marketing and engagement automation for the Salesforce® platform.
With Predictive, your team will increase efficiency and revenue. Automatically track, score, nurture and connect with prospects throughout the engagement cycle. With our applications, marketers can develop, deploy, and manage professional, engaging, multi-step campaigns.
Email metrics in Salesforce

Drag-and-drop responsive email designer

SMS ready

Lead/Contact engagement scoring
Drip campaigns

Scheduled campaigns

Subscription management

Click and web page tracking
Adaptive campaigns

Campaign branching

High deliverability

A/B testing
Pricing and Editions
Standard
billed annually
50,000 emails/year
Org wide licensing
Scheduled, adaptive and automated drip campaigns
Drag and drop editor
Multiple email domains ready (Additional domains $100/month.)
Alternate (work or home) email campaigns
Installation and training
30% off for non profits
Pro
billed annually
1.5 million emails/year
Everything in Standard, Plus:
Dynamic content
Email ROI — know the value of opportunities and donations generated by each email
Subscription management
SMS ready
CampaignFlow automation included ($150/month value)
Unlimited spam & email client previews ($50/month value)
Mail attachments optional
30% off for non profits
Enterprise
billed annually
10 million emails/year
Everything in Pro, Plus:
Dedicated IP or use your own IP available
30% off for non profits
We've tried many others and this one is by far the best. Includes the means to setup templates with an editor that is truly easy to use. The flexibility of the email system is fantastic. PR has streamlined our marketing and is one of the best investments we've ever made in this area. Try it, you'll love it!
Predictive Response have really filled a niche by providing a product that can automate emails from Salesforce for a fraction of the price of other marketing app companies,
We've had a marketing strategy for well over a year that we've had trouble executing on, because we haven't had campaign flow. Now that we have PR + Campaign Flow, we can fully execute on that marketing plan, which is critical to the organization's future.
Finding a fully integrated marketing app with useful automation was key. We researched the entire list of ESP apps on the market and made countless research calls to app providers. We were intent on getting high performance while spending our money wisely. The support from Predictive Response and the quality of the product are outstanding.